Wow! The first half term is upon us meaning our not so little ones who started school this September are starting to get settled into their new classes at school.
We hope they have been having lots of fun learning new things and meeting lots of new friends!
Many parents tell us that The Little Gym helped their children build confidence before school which has been invaluable since starting school, but what many parents don't know is how the structured learning that takes place in our classes here at The Little Gym can support the learning and development happening in the classroom.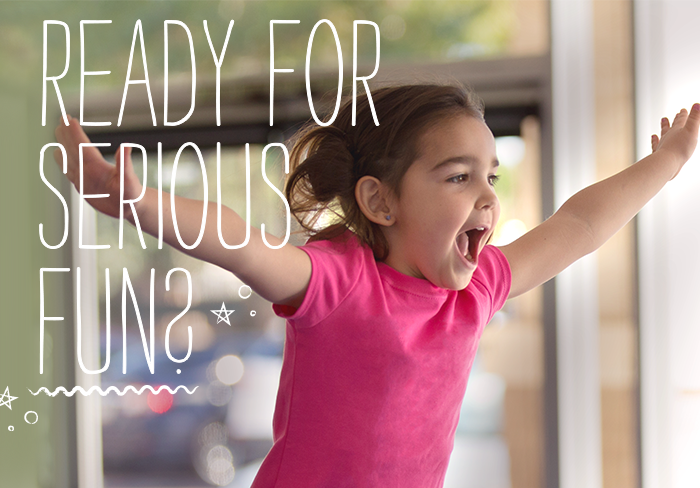 Schools often recommend that children don't take part in any outside school activities for the first term due to the adjustment period of starting school full time, but as we are now nearing the second half of the first school term here are
5 Top Questions
parents often ask us about new school starters and the reasons why attending classes at The Little Gym will support your child's development in formal education.
1.) If my child is learning skills at school why bother coming to the gym as well?
Our fun-based approach to learning at The Little Gym is the ideal foundation for children entering reception. Our pre-school curriculum is specifically designed to reinforce what is happening in the classroom, for example we have fun movement based themes such as our '1,2,3 Count with Me' learning unit. The fact that this is taking place in the gym environment particularly helps with kinaesthetic learning (learning through doing).
The Little Gym activities improve and maintain core strength and upper limb strength which is an essential foundation for skills that the school curriculum will demand such as handwriting, tolerating sitting at a desk and maintaining attention.
In our experience the reinforcement that takes place in the gym helps children stay ahead of the game at school. This enables them to experience more success and thus further building their self-confidence. This confidence will be a major factor in them reaching their full potential whether at school or at home.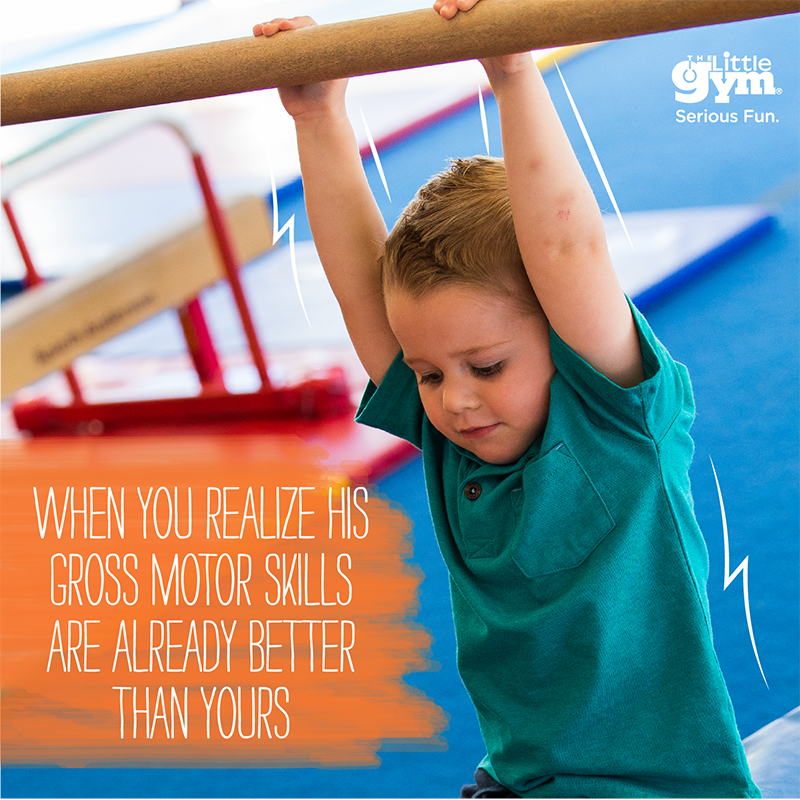 2.) Will my child be overwhelmed by doing so much?
Today's children are very busy children and yet research has shown they are not moving enough. It is also well known that children thrive on routine. As they start school much of their normal life routine will change. If they continue to or start attending the gym they will have one constant factor that they know and recognise. You will likely have noticed that our class structure stays the same week on week with different skills and activities slotted into it. This is to give the children this continuity and confidence when they come to classes.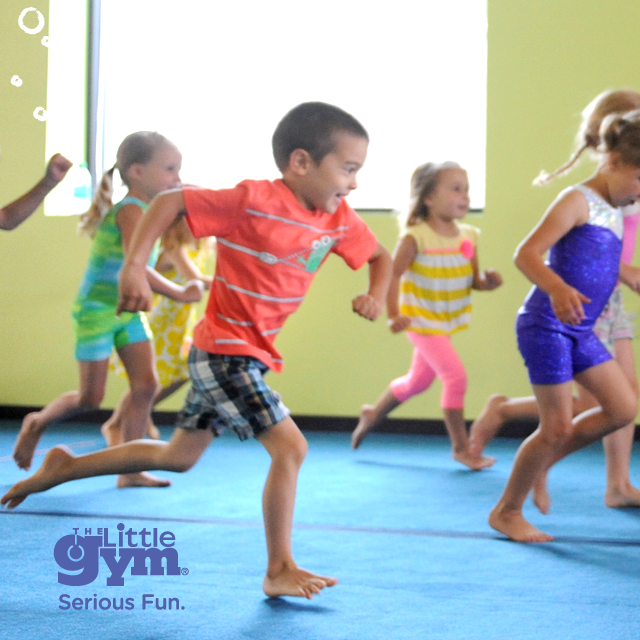 3.) Will my child be too tired?
Many parents are concerned about this and in our experience when children come to the gym it serves to energise them.
Movement is the brain's fuel. The Little Gym activities offer intense movement through the joints (i.e pushing and pulling, jumping, running) which has a regulating effect on the central nervous system. Children may be mentally tired but they usually still have plenty of physical energy to burn. In other words our classes give them a chance to let off steam at the end of the school day in a safe and structured activity.
We are also very flexible and understand that some weeks are busier than other for you and your children. If there is a particularly heavy week at school we encourage parents to cancel their class and make it up another week. You can then make up the missed classes any time before the semester ends in February, we are open for classes throughout half terms and siblings can use make-ups too!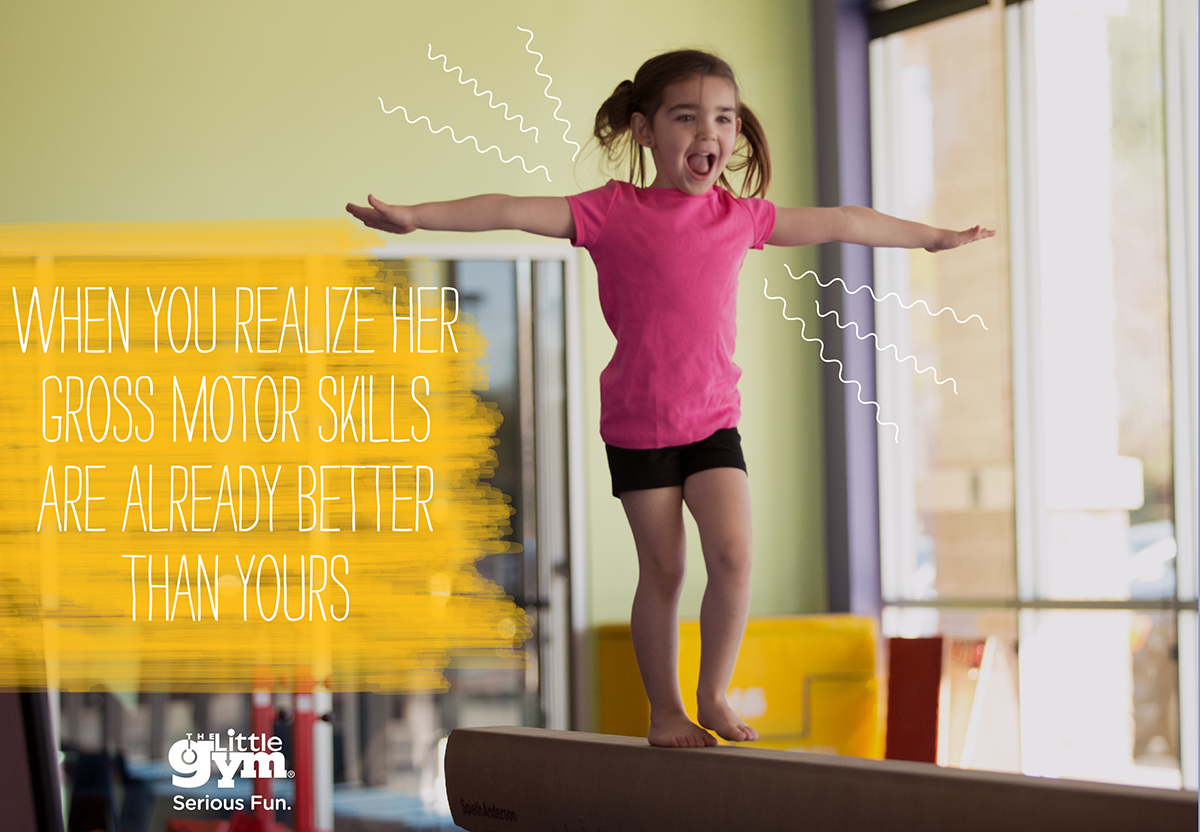 4.) Won't my child be repeating what happens in their P.E. lessons at school in their sessions at the gym?
Due to the amount that is squeezed into the national curriculum unfortunately time in school for P.E. is limited, on average primary school children participate in only 127 minutes of P.E. per week. The activities at The Little Gym are designed to include movement that improves stamina, strength, bilateral coordination, hand-eye coordination and balance all of which are required for for good performance in PE and other sports activities at school.
Our classes at the gym have a 1:6/7 student to instructor ratio and bespoke facilities gives children an intensive hour on top of what they are doing at school which will support their physical development and confidence.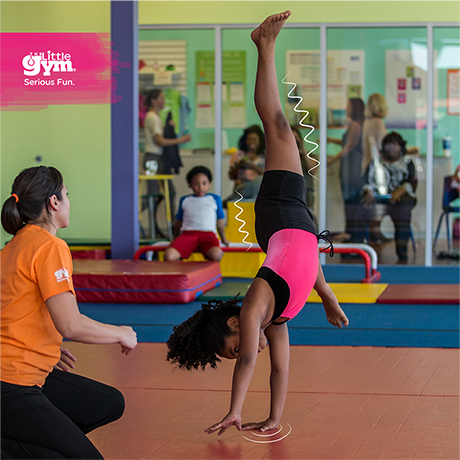 5.) What sort of things will my child be learning in their class at the gym?
Many of the things we do at The Little Gym help to prepare children for and assist their development at school. They learn to take turns in an obstacle course, as well as listen to and follow directions from musical cues and teachers. Following instructions also helps the child with visual and auditory memory as well as sequencing abilities.
Children also acquire and develop verbal skills with our directional music and songs, they respond to questions during opening circles and draw their learning together at the end of the class in closing circles.
We nurture and encourage children to enjoy exercise and sport in our non-competitive environment. Each week they will learn and develop motor and gymnastics skills. We help children build confidence and celebrate their victories so they feel encouraged to try to accomplish more.
If you would like to come along and try a class or rejoin after a break from classes then call us today on
0208 874 6567
or email
wandsworth_fulham@thelittlegym.eu